Grand Opening: Salsa & Bachata After Work. Live Music at Sambuca Downtown
July 29 @ 7:00 pm - 11:45 pm
Breaking News: We found a place to party in style. Plus Orquesta Salmerum will be performing Salsa and Bachata LIVE!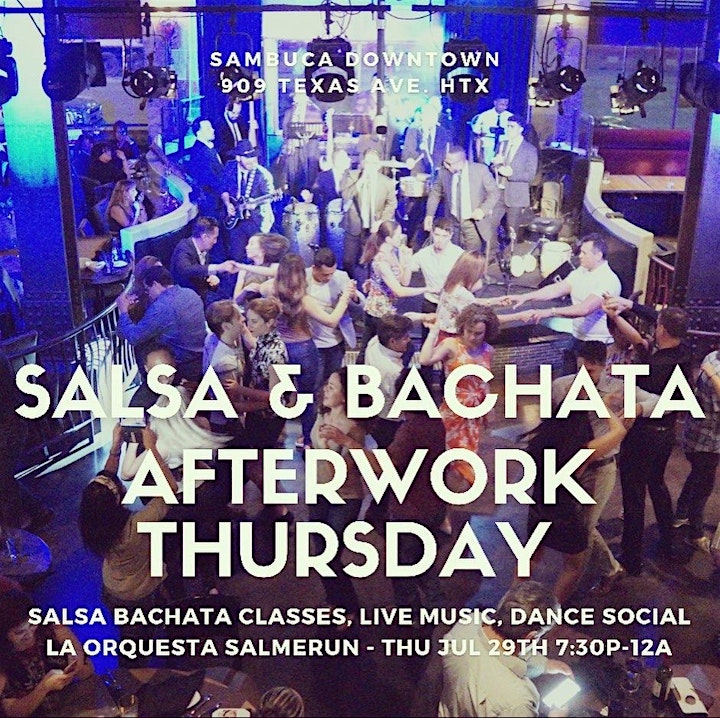 Dine, dance, learn and have fun! Salsa and Bachata Afterwork has a new stylish and beautiful home: Sambuca in Downtown! Plus aside form Lessons we will have Live Music! Each Thursday a new Latin Band will delight us with Live Salsa, Bachata, Cumbia, Merengue hits!
Salsa and Bachata Afterwork Schedule
7:30p-8:15pm Live Band Performs first set
8:15-9:15pm: Salsa & Bachata Classes
9:15-11:30p Live Band peforms second and third set / Dance social.
TICKET PRICES:
Singles: $10/p
Couples: $15
No partner required. No experience needed. Make it a date night and enjoy some amazing food and drinks at Sambuca.
Please no credit cards. You can pay with cash or send your payment digitally via Venmo (@latindancefactory), Cashapp ($latindancefactory), Zelle @ Christian Franco 832-413-2623.
DON'T MISS IT!
This is a fantastic way to learn, practice, increase your level, relax and have fun!
✕ No Partner required
✕ No Experience required.
Everyone is welcome to attend.
We will help you with the steps!
✓ Free street parking after 6pm. Additional paid parking on the multi-level garage on Travis and Prairie (just one block away).
VENUE LOCATION
Sambuca – Downtown
909 Travis St. Houston, TX
Free parking around Texas, Prairie, Travis, Milan, Congress, Preston St. Do not park on red zones (for emergency vehicles only). Street parking is free all over Downtown after 6pm.
*Please lock your items securely in your car.
MORE PARTIES & LEARNING
Want more parties? Check our #partieseveryday calendar and social media to follow us around town: http://bit.ly/partieseveryday
Interested in Private Dance Lessons? We can help you with one on one instruction every single day from 11am to 7pm. Just contact us to make an appointment.
Can't come to class? We also have instructional videos that you can use to learn at home! Over 350 step by step lessons in Salsa, Bachata, Cumbia, and Merengue. Visit our website to gain access: https://www.latindancefactory.com/dance-at-home-videos
DON'T MISS IT!
Hope you can join us! This is the best and most fun way to learn, practice and have fun learning and dancing Salsa, Bachata, Cumbia, Kizomba, and more! We welcome singles, couples, newbies and pros. Everyone is super friendly and laid back. We help each other learn and improve our dance techniques with great music, food, drinks and ofcourse fun people!
Sharing is caring. Help us spread the word so we can get back to learning and dancing together! Huge thanks for your continued love and support!
CONTACT & FOLLOW US
Christian Franco
Text / WhatsApp at 832-413-2623 (Se habla Español)
Schedule: http://bit.ly/partieseveryday
Become Part of our Latin Dance Factory family!
Instagram: https://instagram.com/latindancefactory
FB Page: https://www.facebook.com/latindancefactory
FB Group: https://www.facebook.com/groups/latindancefactory/
#partieseveryday #latindancefactory #salsa #bachata #merengue #cumbia #kizomba #zouk #meetdance #bachatatuesday #salsawednesday #zoukthursday #kizombathursday #howtodance #newstudents #dancelessons #danceparty #social #salsahouston #bachatahouston #kizombahouston #houstonzouk #party